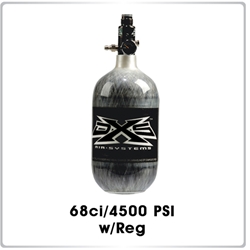 CONTROL THE GAME with consistent air pressure!  Our tanks operate with the best regulators on the market for unbeatable consistency in air pressure delivery.  ASTM approved, the DXS™ 2-in-1 regulators can change from the preset 800 psi to a low 450 psi output in just a few minutes
The biggest difference vs. similar competitive products is our QUALITY CONTROL: each regulator is installed and verified by the manufacturer to ensure virtually zero defect rates.
Features:
Up to 1100 shots with a full fill

Fiber wrapped, the DXS tanks are very compact. They are smaller and lighter than similar competitive tank

It is 7/8" shorter and about 20% lighter than the competition. It looks like a 45 cu. in. tank but with a 68 cu. in. capacity!
o        It measures 11.125", compared to 12" of the competition!
o        It weighs 2.5 lb., compared to 3.1 lb. of the competition!
High quality preset regulator

ASTM approved

LP laser engraved bonnet

Blue plastic cap for easy visual recognition and added protection
·       Accessories (regulator, spare parts) are also available
 Safety features
All DXS regulators are equipped with the High Pressure Burst Disk required by the D.O.T.

In addition, all DXS regulators have an 1800 psi safety burst disk (stamped 1800 psi) to protect the marker and the end user in the unlikely event that the regulator fails.
5 YEAR HYDRO TEST DATE
Paintball
DXS Carbon Fiber Tank 68/4500 PSI High Pressure
CONTROL THE GAME with consistent air pressure! Our tanks operate with the best regulators on the market for unbeatable consistency in air pressure delivery. ASTM approved, the DXS™ 2-in-1 regulators can change from the preset 800 psi to a low 450 psi output in just a few minutes