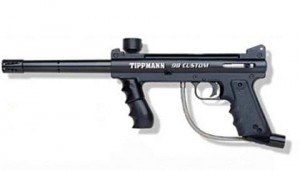 The Tippmann 98 Custom PLATINUM SERIES Ultra Basic is an entry level, fully customizable marker. The main feature is the ease of customizing the marker. The 98 Custom combines all the great features of the older Model 98 with the ability to accept the Flatline Barrel System, Response Trigger System, Comp-Air Low Pressure System. All of these Tippmann Systems can be installed with same tools that you use to disassemble the marker. We are sure the 98 custom is the most customizable marker you can buy. Features:
Semi-Automatic
Customizable Receiver
All Aluminum Die Cast Receiver
8 1/2″ Quick Thread Stone-Honed Barrel
Heavy Duty Stainless Steel Braided Gas Line
Removable Font Grip to Accept Expansion Chambers, Vertical Tanks, & Air Systems
Fully Compatible for CO2, Compressed Air, or Nitrogen
New Features Include:
Split Receiver Design, which provides easier access to internal components for simplified installation of grip upgrades and modifications
Secure Front Sight Spring and Trigger Pins, which makes the marker easier to service and reassemble
Easy-to-Remove Power Tube Design with self-sealing/locking gas line makes maintaining the marker quick and easy
Full Depth Pockets for ASA, which eliminates the need to loosen the ASA bolts when disassembling the marker
New Barrel Porting and a Matte Finish, which improves marker air efficiency and reduces reflective glare
Picatinny Rails, which makes adding a carry handle, scopes and other accessories a snap
Redesigned, Vertical Front Grip, which offers improved stability and added texture for a more secure feel
Redesigned Sling Mount End Cap, which allows players to easily attach a variety of different sling styles
Note: No A.C.T. or hopper is included in this package.
Paintball
Tippmann 98 Custom PLATINUM SERIES Ultra Basic
The Tippmann 98 Custom PLATINUM SERIES Ultra Basic is an entry level, fully customizable marker. The main feature is the ease of customizing the marker. The 98 Custom combines all the great features of the older Model 98 with the ability to accept the Flatline Barrel System, Response Trigger System,…