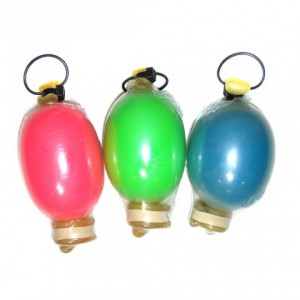 The most reliable grenades in the game… and they even smell good…
10oz of Paint: Produces a large spray pattern for more effective coverage.
Reliable: The highest detonation rate in its class.
Consistent Size and Weight: Approximately the size of a baseball meaning you can throw it like one.
Easy: No pin to pull, paint is released on contact. Large loops to hook on to your belt or vest.
Paintball
Tippmann Big Boy Grenade
The most reliable grenades in the game… and they even smell good…
10oz of Paint: Produces a large spray pattern for more effective coverage.
Reliable: The highest detonation rate in its class.
Consistent Size and Weight: Approximately the size of a baseball meaning you can throw it like one.
Easy: No pin to pull, paint is released on contact. Large loops to hook on to your belt or vest